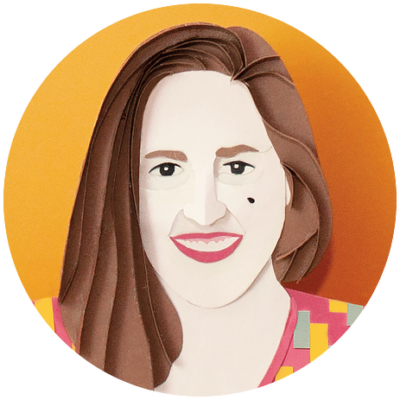 Ich liebe Gestaltung, die Hand und Fuß hat, die Inhalte visualisiert und nicht nur hübsch macht. Ich liebe es komplexe Themen so aufzubereiten, dass sie für alle verständlich sind und im Gedächtnis bleiben.
Dies gelingt mir durch eine ganzheitliche Gestaltung von Konzept über Stilentwicklung bis zur Umsetzung. Dabei lege ich sehr großen Wert auf klare und offene Kommunikation und engen Austausch mit Kunde und Team.
Mir ist es wichtig, individuell auf jedes Projekt und jede Zielgruppe einzugehen, um so das beste Ergebnis zu erzielen. Aus diesem Grund beschränke ich mich nicht auf einen bestimmten Stil.
Ich bin in Bayern aufgewachsen, habe in Bozen (Italien) Design studiert, ein paar Monate in Bremen gelebt und in Berlin viele Jahre Berufserfahrung in einer großen Content-Marketing-Agentur gesammelt. Nun arbeite ich als freiberufliche Infografikerin, Illustratorin und Papierkünstlerin für Kunden in Städten und Ländern mit und ohne »B«.
Gerne unterstütze ich auch Sie dabei Ihre Themen auf den Punkt zu bringen und visuell zu kommunizieren.
I love design that makes sense, that visualizes content and doesn't just make things pretty. I love to prepare complex topics in such a way that they are understandable for everyone and will be remembered.
I achieve this through a holistic design from concept to style development to realization. I attach great importance to clear and open communication and close cooperation with the client and the team.
It is important to me to respond individually to each project and each target group in order to achieve the best result. That's why I don't limit myself to a particular style.
I grew up in Bavaria, studied design in Bolzano (Italy), lived in Bremen for a few months and gained many years of professional experience in a big content marketing agency in Berlin. Now I work as a freelance infographer, illustrator and paper artist for clients in cities and countries with and without "B".
I am happy to support you in getting to the core of your topics and communicating them visually.
Freiberuflich und im Rahmen meiner Festanstellung bei C3 GmbH (ehemals KircherBurkhardt GmbH) habe ich unter anderem für folgende Kunden gearbeitet · As a freelancer and as part of my permanent position at C3 GmbH (formerly KircherBurkhardt GmbH) I have worked for the following clients, among others:
Deutsche Energie-Agentur • Bundesministerium der Verteidigung • Vivawest ­Wohnen GmbH • Airbus Defence and Space • Deutscher Sparkassen- und Giroverband • Start with a Friend e.V. • Deutsche Bank •  Volkswagen AG • Audi AG • Stiftung Mercator • Bayerisches Staatsministerium für Ernährung, Landwirtschaft und Forsten • WBS Gruppe • Deutsche Bahn • TÜV Rheinland • Focus • s.Oliver • GEMA • Stiftung Wissenschaft und Politik • Transparency International • Humboldt-Universität zu Berlin • APA – Austria Presse Agentur • Livinguard • mobile.de • Thermondo • KfW
C3 Creative Code and Content • Springer SE • 360plus Design • tænk • Einhorn Solutions • Pötting Information Design • Content Refinery • GREY • dammanworks • schoene neue kinder • Middeldorf von Schorlemer
Sie möchten noch mehr über meinen beruflichen Werdegang erfahren oder mich in Ihr Netzwerk einladen? Dann werfen Sie einen Blick auf mein xing- oder linkedin-Profil. · Would you like to learn more about my professional career or invite me into your network? Then take a look at my xing or linkedin profile.