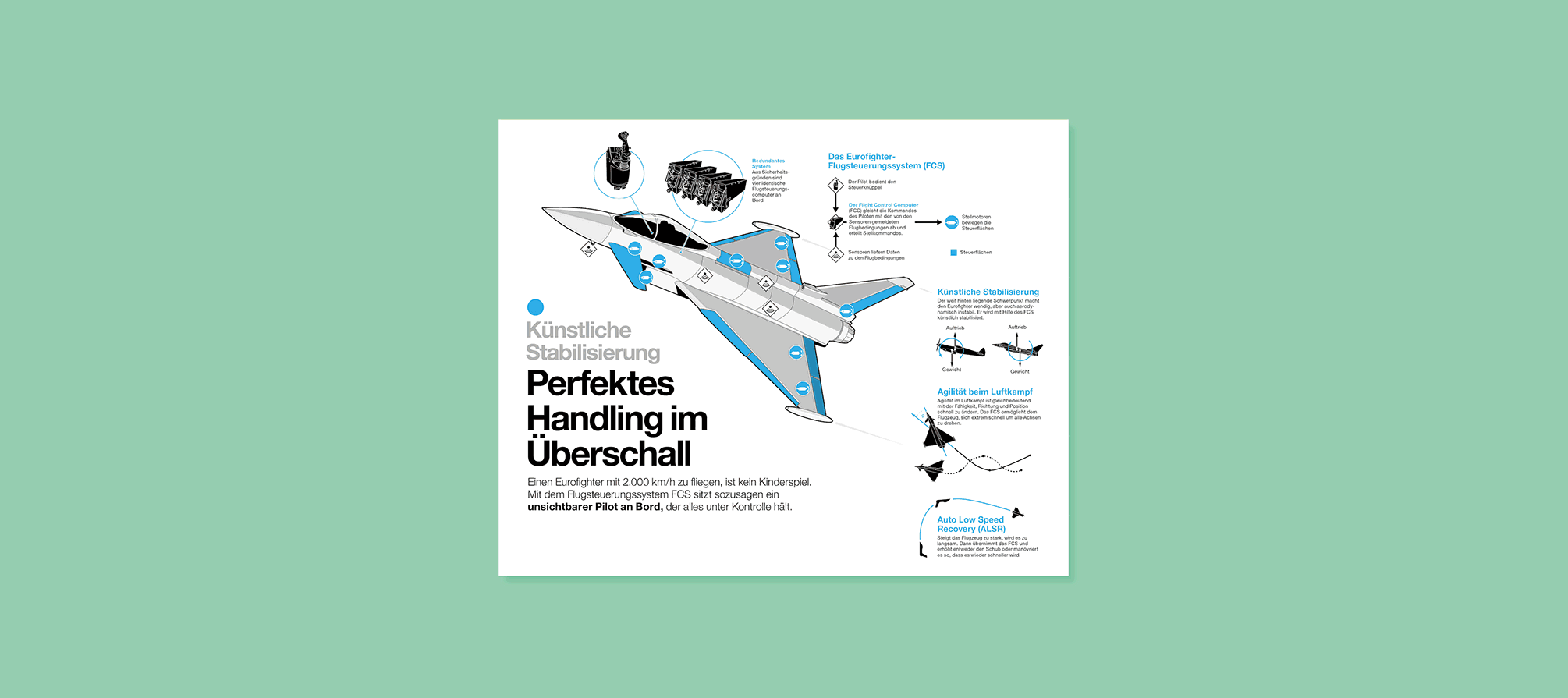 Dies ist eine Sammlung kleinformatiger Infografiken, welche in den vergangenen Jahren für verschiedene Kunden entstanden sind.
This is a collection of small-format infographics, which were created in the past years for different customers.
Eurofighter Flight Control System

Diese Infografik über das Eurofighter Flugsteuerungssystem ist für das Mitarbeitermagazin von Airbus Defence and Space entstanden. Sie erklärt warum der Eurofighter das FCS braucht und wie es funktioniert. · This infographic about the Eurofighter Flight Control System was developed for the employee magazine of Airbus Defence and Space. It explains why the FCS is needed and how it works.
Ideenmanagement Air Berlin · Ideas Management Air Berlin
Air Berlin hat einen neuen, transparenten Prozess zum Ideenmanagement entwickelt, der es jedem Mitarbeiter ermöglicht, seine Ideen direkt beim CEO einzureichen und deren Status nachzuverfolgen. · Air Berlin developed a new and tansparent process for Ideas Management, that allows every employee to submit ideas directly to the CEO and to track their status.
Strommix Deutschland · Electricity Mix Germany
Wie entwickelt sich der Strommix in Deutschland. Die Zahlen aus dem Jahr 2013 und die Prognose für das Jahr 2025 im Vergleich. · How is the electricity mix developing in Germany? The figures for 2013 and the forecast for 2025 in comparison.
E-Zigarette · E-cigarette
Wie ist eine E-Zigarette aufgebaut? · How is an e-cigarette constructed?
Services
Infografik · Infographics
Kunde · Client
Airbus Defence and Space, Air Berlin, Deutsche Engergie-Agentur, Y – Das Magazin der Bundeswehr
Agentur · Agency
C3 Creative Code and Content GmbH